KLR650 GEN 1 FAIRING - CUSTOMER TEST RIDE PICS!
Many thanks to customer B. W. for sending photos of his preproduction Hemisphere Offroad fairing. He mounted it and took it out to thrash it for a couple days of hard riding.
This was one of 3 prototype fairings we sent around to lucky customers, but it was very close to the production version.
We are looking at the gap question to see if it is going to show up in production or not.
(Our target date to start shipping is 4/10 - if you want to be on our wait list to get dibs, just email us at sales@hemisphereoffroad.com or PM us on Messenger.)
His words:
"The angle of the new fairing solved my interference issue with my Highway Dirt Bike hand guards, so I was able to install the windshield again. That gained me better wind protection, so I was able to ride at 65mph without being blown off the bike. The fairing fit well. The curve of the top did not perfectly match the windshield, but I was able to suck up most of the difference with new mount bolts and washers. The vertical piece behind the fairing that attaches to the headlight mount is not perfectly centered in the fairing. There is a gap on the left side (sitting on the bike) and the fairing rubs on the right side. I am going to extend the rubber isolator that is at the top of the piece, around the sides to help.
It held up well to 2 days of hard desert and mountain riding, including rough washboard, whoops, rock hoping, high speed pavement. Thanks a lot for letting me test this out and I am looking forward to you new products."
KLR650 CUSTOMER PHOTOS: NEW FRONT FAIRING!
More customer photos! From sunny Arizona, here are pics of our brand-new Gen 1 KLR650 (87-07) Wheatwhacker fairing. Many thanks to customer D.M.! He got one of the 3 preproduction fairings we offered.
His quote: "Fairing worked great, did 50 miles off-road and 20 highway. Puts the wind just over the peak of my visor. Definitely a keeper. Looking forward to trying some of your other upgrades."
XR650L BRAKE PEDAL EXTENSION - CUSTOMER PICS
Thanks to Cory E. for sending photos of our brake pedal extension mounted to his 2001 XR650L. You can see the tiny OEM pedal on the floor there...so cute...
Some recent feedback on our KLR tank shrouds
Available here: https://www.hemisphereoffroad.com/kawasaki-products
ANOTHER CUSTOMER PHOTO!
Hemisphere Offroad KLR tank shrounds on a 2005. Customer L.K. from British Columbia says:
"Here's a picture of my bike with your new shrouds on it. Half way through my paint job now. I am extremely impressed. They came super fast and fit perfectly and look great. Thank you!"
CUSTOMER INSTALLATION PHOTOS: GEN 1 (87-07) KLR650 TANK SHROUDS
Thanks for D.J, in Mandeville, LA for sending pics of his Gen 1 KLR650 sporting our tank shroud kit. His words: "I love them. They fit great and look great. I applied a coat of black paint as you suggested."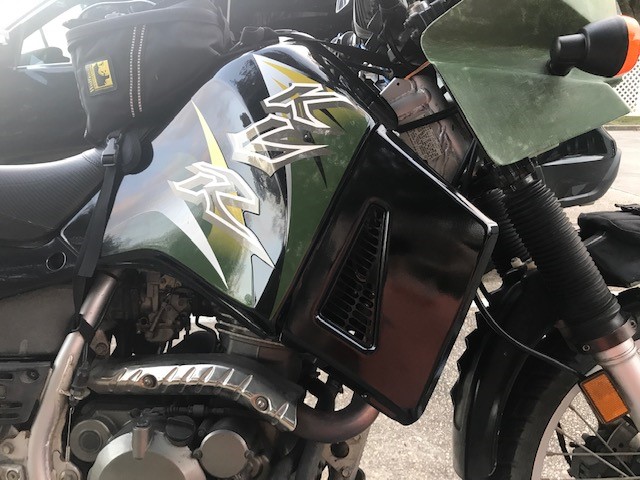 CUSTOMER INSTALLATION PHOTOS: URAL SKID PLATE
Thanks for D.S. in Albuquerque, NM for the photos and below notes about his Hemisphere Offroad Ural Skid Plate installation. His words:
Install was pretty straight forward. I don't have a stock exhaust/muffler setup. I have a two-into-one lower right setup and I use a Harley Sportster muffler that mounts on the rear engine stud.
I did have to remove the muffler in order to install the right side brackets, but not that difficult. Totaly install time was approximately an hour.
Very well made product and am looking forward to trying it out this spring at Moab.
Pic 1668 - Left side frame with brackets installed
Pic 1669 - Ride side frame with muffler still installed.
Pic 1673 - Right side frame with muffler removed and brackets installed
2003 ural gearup with "no wire mesh" option rock guard kit
Thanks to Charlie (CateyeTech) over at Soviet Steeds for sharing some photos of his 2003 GearUp with our rock guard kit (no wire mesh option) installed. Love that paint job!